Board Up, Home Restoration, and Roof Tarp in Morton Grove, Des Plaines, Chicago, Evanston, Lincolnwood, and Surrounding Areas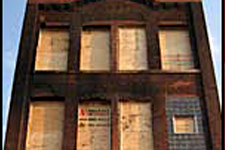 Without question, one of the worst things that could ever happen to your home or business is extreme property damage due to a storm, fire, water or vandalism. Regardless of how serious the damage is, each specific circumstance requires immediate attention and exceptional repair. By not adequately protecting and restoring a window or property structure, more severe damages will inevitably occur. With the A-Emergency 24-hour board up and home emergency services, you will never be left out in the cold again. We will answer a crisis situation in and around Chicago, including Morton Grove, Niles, Park Ridge Skokie, Evanston, Lincolnwood and many other areas.
Not only can more damage be created by not properly boarding up your home or business, but the open space is also an open invitation for people, animals, snow and rain to enter your property. Because of this, it is extremely important for you to fully take advantage of the professional board up and emergency services that we provide. We completely understand that certain situations that require our board up services can be rather nerve-racking and stressful. Let us take the stress away and provide you with the peace of mind that you deserve.
No matter if you have a small, medium or large piece of property, our team of trained professionals are always readily available to help.  Appreciating each specific situation that can arise, A-Emergency Services & Restoration is accessible 7 days a week, 365 days a year and is fully capable of handling any emergency services that comes your way.  In addition, we work directly with your insurance company to ensure that your damage claim is handled and managed appropriately.  Adding to our professional emergency services, we will also take 'before' and 'after' pictures of the boarded up area so that your insurance company can see the severity of the damage.  Regardless of your specific emergency needs, we assure you that we are always here for you.
Immediately after a disaster, you will need to protect your home or business from further damage.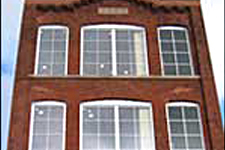 Our one hour response team can assist you in the initial stages of your property emergency, and can help you navigate the confusing hours and days to follow.  We offer comprehensive emergency services for both residential and commercial properties throughout the Chicago area and provide all of our customers with the highest standards of professional service.  When you have an emergency situation, call us immediately at 773-529-6700. We have an A+ rating with the Better Business Bureau and have many satisfied customers. 
Our 24 hr. emergency services include:
Board Up
Tarp & Tar Roof Damage
Water Removal
Structure Drying
Plumbing Winterization
Temporary Fencing
Temporary Electric
Generator Services
Local Home Restoration and Board Up Services
A-Emergency Services & Restoration offers service locally for home restoration in Chicago, Norridge, Skokie, as well as home restoration in Des Plaines, Arlington Heights, Glenview, IL, and the surrounding cities.
Also providing services for board up in Chicago, as well as cities North of Chicago including board up in Arlington Heights, Deefield, Northbrook, IL, and throughout Chicagoland.