Fire Damage Restoration in Lincolnwood, Chicago, Norridge, Skokie, and Surrounding Areas
Fire damage restoration is a complex and challenging process that requires expertise and specialized equipment to ensure a thorough and safe restoration. A Emergency Services & Restoration provides fire damage restoration in Lincolnwood, Chicago, Arlington Heights, Norridge, Skokie, Morton Grove and surrounding regions.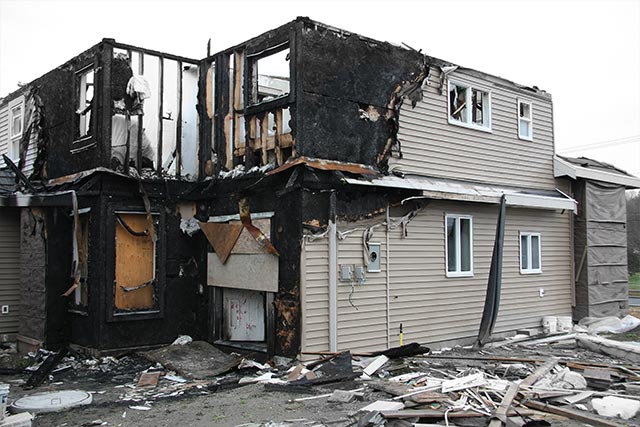 Here are five compelling reasons why getting professional help for fire damage restoration is essential:
Safety and Health Concerns: After a fire, the property may contain hazardous materials such as asbestos, lead, and chemicals from burned materials. Professional restoration companies have the necessary training and protective gear to handle these hazardous substances safely. They will also take appropriate measures to prevent respiratory issues caused by smoke and soot exposure.
Rapid Response and Mitigation: Quick action is crucial in mitigating fire damage and preventing further deterioration of the property. Professional restoration companies have 24/7 emergency services and can respond promptly to start the restoration process. They have the expertise to assess the extent of the damage and develop a comprehensive plan for restoration.
Specialized Equipment and Techniques: Fire damage restoration requires specialized equipment to remove soot, smoke odor, and water used in firefighting efforts. Professional restoration companies have access to high-powered vacuums, air scrubbers, dehumidifiers, and ozone generators to ensure effective restoration. They also employ proven techniques to salvage and restore belongings that might be otherwise considered irreparable.
Insurance Assistance: Dealing with insurance claims can be overwhelming, especially after a fire. Professional restoration companies are experienced in working with insurance companies and can help you navigate the claims process. They will document the damage thoroughly and provide the necessary evidence to support your claim, increasing the likelihood of a fair settlement.
Comprehensive Restoration: Fire damage restoration involves more than just cleaning up the visible mess. It requires structural repairs, odor removal, mold prevention, and other specialized tasks. Professional restoration companies have teams of skilled technicians who can handle every aspect of the restoration process, ensuring that your property is fully restored to its pre-fire condition.
In summary, hiring a professional fire damage restoration company ensures that the restoration process is conducted safely, efficiently, and thoroughly. It gives you peace of mind knowing that your property is in the hands of experts who will help you recover from the devastating effects of a fire incident. Please call us without any hesitation.